How to Rank YouTube Videos on the First Page of Google
I've been using videos to market our startup Process Street for the last few months and have been getting some great results with video bringing in a steady flow of views, leads and customers
Now you might already be aware that video is an important marketing tool in today's online world, that's why products like PowToon exist, but the way I use video might be a little different. See I'm not using video in a traditional sense of putting it on my website and using it to convert customers or explain ideas (although I do that too), I'm actually using these videos as pieces of content to rank in Google to bring in organic search traffic.
Why Video is Awesome
Creating videos this way is similar to creating blog posts or landing pages for SEO, but a YouTube video has a few key benefits over blog posts. Firstly, YouTube videos rank in Google well, like really well. Since YouTube is owned by Google, and is already an extremely high authority site, chances are that a piece of content you put on YouTube will rank higher than your own site, especially if its new and doesn't have much authority.
Posting content on YouTube also lets your content be discovered when people search YouTube which is the second biggest search engine in the world, bigger than Bing and Yahoo. Optimizing your videos to rank in Google automatically optimizes them to rank in YouTube too so this brings in an additional traffic stream you would otherwise have missed.
But what is really great about ranking in Google search is that it's search traffic, the best kind of traffic for a product like mine which is solving a very specific pain point for businesses. This kind of traffic brings us customers from huge enterprises which I otherwise would have had a hard time identifying and marketing to.
How I Rank YouTube Videos
In this post I will explain the process I use to optimize and rank my videos in Google.
But first, here are a few examples of terms my videos are ranking for in Google:
Standard Operating Procedure Software ( Google Search| Video Link)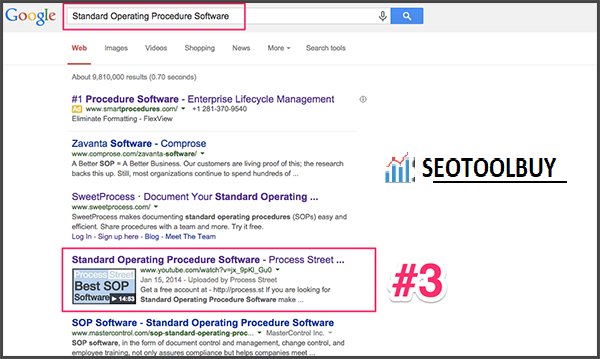 Business Systemization ( Google Search| Video Link)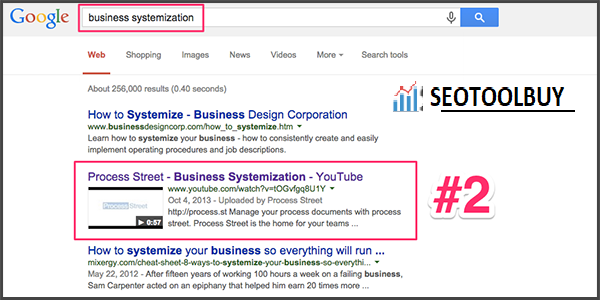 Sharepoint DMS alternative ( Google Search| Video Link)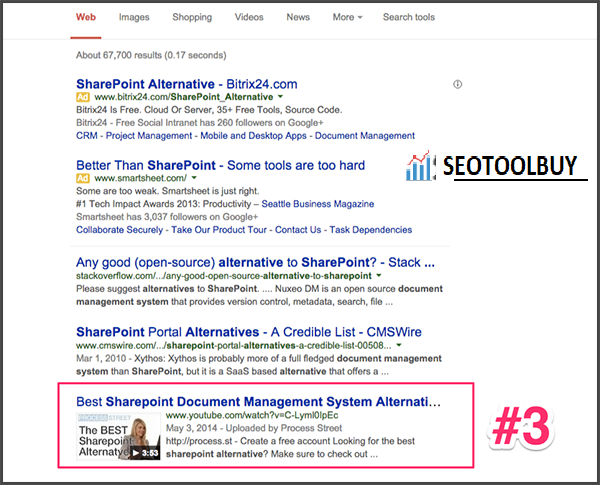 To name just a few…
The amazing thing about ranking videos for these kinds of keywords, even though they might not have a ton of traffic, they are VERY targeted visitors, people searching for that exact kind of product.
In this post I will break down the methods I use to rank these videos and how you can use it to rank your PowToon videos too!
I am not going to talk about how to make a video in this post. If you want to learn more about creating videos I recently wrote a post on how to create a startup explainer video plus PowToon has a number of great tutorials on the blog.
In this post I will show you how to optimize your videos and get them ranking for your target keywords.
On-Page Optimization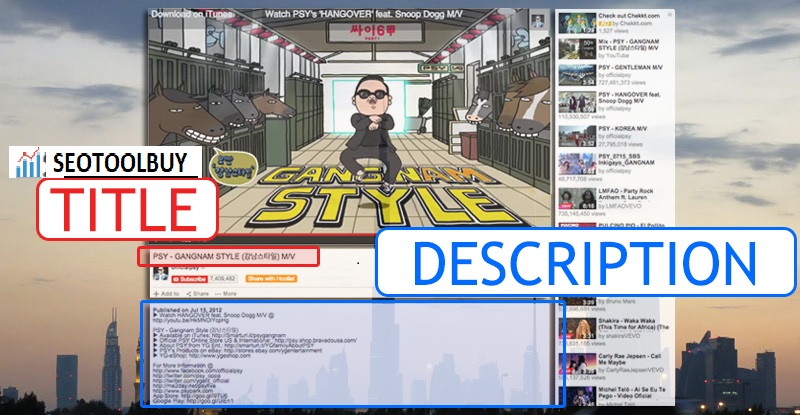 The first thing you should do before uploading your video is prepare you keywords, title and description.
Keyword Research
When ranking YouTube videos its good practice to target multiple long tail keywords in the video, this will bring in more traffic as you rank for multiple terms with just one video.
Like this video I did on checklist software is ranking for Checklist Software, Checklist Software Tool and Checklist Template Software.
You should find a keyword to target based on the content of your video. This is pretty easy, type a few variations into the AdWords Keyword Planner Tool and find the one that ranks the highest. There are a few tricks you can do to find keywords that have low competition, but for the sake of this guide I am going to a assume you already know what keyword you want to rank for before you created the video.
For our example, lets use "Tree Removal Miami"
Once you have your primary keyword, its time to get to work building a list of secondary keywords, constructing a title and description for your video.
Below is a video I made for a friend teaching him how to do this process of keyword research then constructing the title and description. In the video I walk through two example keywords "Tree Removal Miami" and "Electrician Miami", the video is an over the shoulder of me doing it for a friend and runs about 30 min if you want a really detailed explanation of how his process works.
Build Keyword List
Take your primary keyword and put it into the Adwords tool, pick 3-6 other keywords that have the highest search traffic and are related to your product. You can also use Uber Suggest to find the most common searched for terms after your keyword.
This is the keyword list I came up with for Tree Removal Miami
tree removal miami
tree removal cost miami
tree removal service miami
tree stump removal miami
palm tree removal miami
tree removal services miami
emergency tree removal miami
tree removal company miami
tree removal miami FL
tree removal cost miami FL
tree removal service miami FL
tree stump removal miami FL
palm tree removal miami FL
tree removal services miami FL
emergency tree removal miami FL
tree removal company miami FL
Video Title
Use the keyword list to construct the title. Weave in as many of the keywords as you can with the title still making sense and not looking like spam.
Tree Removal Service Miami FL | 555-555-5555 | Low Cost Emergency Tree Stump Removal Company.
Video Description
The description should include ALL your keywords, woven into legible paragraphs that again don't look like spam.
Tree Removal Service Miami FL | 555-555-5555.
Low Cost Emergency Tree Stump Removal Company in Miami FL. Get lowest cost services on your emergency tree removal.
We guarantee the lowest tree removal cost in all of florida for tree stump removal. Contact us today for a free quote from the most reliable tree removal company in Miami FL.
Video Tags
For the video tags, just copy and paste in your keyword list. Easy.
Advanced Optimization
There are a couple of advanced optimization techniques that I haven't had the time to get into myself but I hear good things about. Those are:
Transcript (adding a written transcript to your video can help the search engines crawl the video and give you higher rankings).
Annotations (again adding more text to the video helps with search).
I haven't tested these myself but so far I have been able to get to the first page of Google for a number of terms just using the methods above of optimizing the Title, Description and Tags then doing the off page optimization steps as outline below.
Off Page Optimization: Backlinks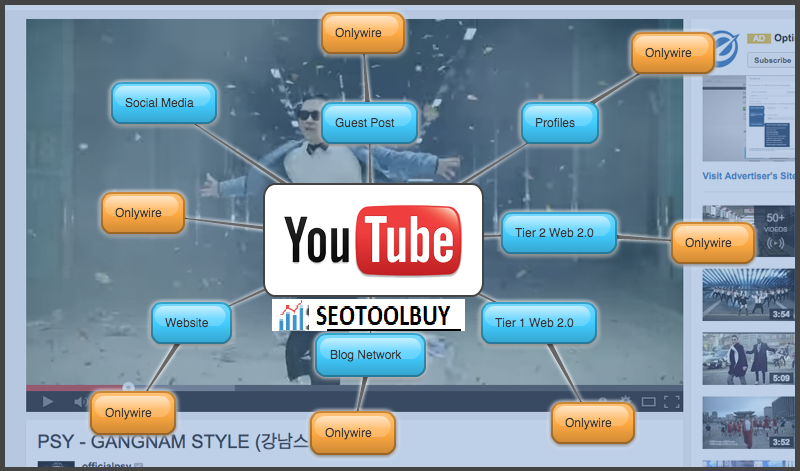 Now your video is uploaded and optimized, it's time to start ranking it. Ranking a YouTube video is pretty similar to ranking any website where the main ranking determinant is the number of backlinks you have pointing towards that video. YouTube has another factor however and that is the number of websites that have actually embedded the video, making it slightly different to creating backlinks for traditional websites.
Here is a list of YouTube ranking factors in order of importance:
Embeds
Links with Anchor Text
Links without Anchor Text
Social Signals
Below are the strategies I use to rank my videos on YouTube. These are not all the strategies that exist. There are many ways to get backlinks and embeds but below are the main methods I use when promoting my videos.
Submit to Social Media Properties
Share on personal Google+ and company
Share on company Facebook page, like it, share it
Share it on twitter company account
Retweet on your own account
Submit to Onlywire
Onlywire is a service that lets you manage over 30 web 2.0 properties from one control panel. It's awesome to get a quick backlink shot of 20-30 links to any post or video you publish. Submitting your video to Onlywire won't move the needle much but it takes just a second to do and the more links the better. I use Onlywire lot as I build links, every Web 2.0 post, guest post, video, forum post, profile etc that I create, I submit to my OnlyWire account to give my a quick link boost.
Plus you can pay someone on Fiverr to set it all up for just $5, an effective, cheap and automated way to do social bookmarking submissions.
I talk about submitting to Onlywire a lot in the rest of this post. This is not a necessity though, merely a shortcut. There are other social tools to help you manage various social networks, or you can simply submit to them manually for free, but Onlywire is the easiest way I have found and it's what I use in my business.
Post on Site
Create a Blog Post or Landing Page on your Website. A general rule for a landing page is that it should have 300-500 words of unique content. The keyword should be included in the title and the body. The keyword should be linked to the YouTube video, the video should be Embedded onto the page and you should also link out to an authority site. To beef up the page further, add the keyword into a H1 tag and as the alt text of an image.
This formula should be followed when posting anywhere including your site, other blogs you own or web 2.0 sites.
Here is a quick checklist:
300-500 words unique content
Keyword in Title
Keyword in Body
Keyword anchor text linked to video
Embed Video
Authority Link
H1 tag with keyword
Image with keyword in alt text
Once you have published your page/post to your site, don't forget to promote it! Submit it to social bookmarking sites, Onlywire and across the web. If you are looking for more places to promote your content, try this checklist.
Post on Blog Network
Create a blog post on a personal blog or other site you own. If you don't own any other web properties, now might be a good time to create a blog. Having a second web property such as a blog is a great way to get additional exposure and backlinks for your videos.
I have a few older blogs that are still around and have some decent authority so I use them to write posts and embed my videos in like this one I did on standard operating procedure software.
Once you have published your post to your blog using the same format as above, submit it to Onlywire.
Submit to Profiles
Company profiles and business directories are another great way to get embeds for your video. Depending on your niche you can embed your video onto your LinkedIn page, Angel List profile or Yelp listing.
These are great quick ways to not only get backlinks to your videos but also to generally increase your branding as a company.
Remember to submit your profile pages to Onlywire to get some secondary link juice.
Guest Post
Write related guest posts for other sites and find meaningful ways to link or embed your videos into the guest post. This is one of the most powerful ways to get links to your videos, actually I am doing it myself in this post :). Another example of a guest post where I embed and link to a number of my videos is this post I did on the Startup Chile blog.
Remember to promote your guest posts too! Submit them to social bookmarking sites and to Onlywire.
If you want to learn more about guest posting, try these guides:
Create a Post your Web 2.0 Properties
Another great way to get embeds, links and views for your videos is to publish them on your web 2.0 sites like the ones listed below. Use the same format as when submitting to your blog or your website.
There are a lot of different web 2.0 sites available and it can take a bunch of time and resources to post on all of them, so I have broken them down into Tier 1 and Tier 2 sites. Start with the Tier 1, if you have the time, resources keep posting onto the tier two sites.
Tier 1
WordPress.com
Blogger.com
Tumblr.com
Medium.com
Tier 2
LiveJournal.com
Soup.io
Webs.com
Doomby.com
Hpage.com
Sosblogs.com
Blog.com
SnapPages.com
Jigsy.com
Beep.com
Tripod.lycos.com
Ucoz.com
Jimdo.com
Bravesites.com
Newsvine.com
Storify.com
Over-blog.com
Whether you are posting on Tier 1 or 2, every time you create a new post, make sure to submit it to Onlywire. Rank YouTube Videos
Keep on Linking
As you continue to write content, do presentations, post on forums etc remember to keep linking back to your videos when you can. The more links you can get back to your videos the better they will rank over time so keep on plugging them wherever you can.
If you do the linking optimization tips above and actively work on generating links and embeds to your YouTube videos they will rank in Google and bring in a targeted, free flow of traffic.
Tell us about your YouTube ranking experiences in the comments below!